Sunday, December 9, 2018
Second Sunday In Advent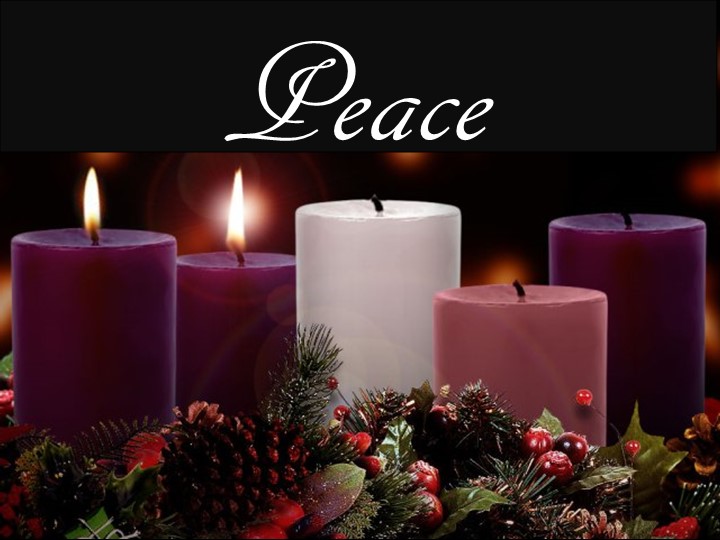 St. Paul Lutheran Church
107 Tustin Road
Fremont, WI 54940
Church Office: (920) 446-3251
email – stpaulfremont@centurytel.net
Pastor Stephen Pope Home: (920) 993-9241
Welcome to St. Paul's Lutheran of Fremont, WI. To our visitors we are glad you have gathered together with us in the name of the Triune God, Father, Son and Holy Ghost, on this day of rest and refreshment in His Word. Please take a moment to sign our guest register and pick up one of our burgundy colored "Welcome Home" folders. Please come and worship with us again.
AS WE GATHER
Preparation is probably on your mind. Christmas is only weeks away. There are presents to buy, visits to plan, decorations to put up, lights to see, food to cook, and so much more! As we prepare for Jesus to come, we reflect on John the Baptist's words to people who asked what they should do to prepare for the Messiah's coming. John says we are to "make His paths straight" by sharing food and clothing, by not taking advantage of people, and by being content with what the Lord has given us. In the midst of your busy preparations, consider these words.
Scripture Readings
Old Testament Reading Malachi 3:1–7b (God's messenger prepares the way for the
day of the Lord.)
Epistle Philippians 1:2–11 (We are all partakers of grace.)
Holy Gospel Luke 3:1–20 (John the Baptist prepares the way.)
7:45 Hymns – 343, 344, 349
Serving The Lord
**Ushers & Greeters are reminded to please wear your name tags.
December 9 & 16
Greeters 1st – Paul Krause Family 2nd – Paul & Karen Hartrick
Ushers 1st – Paul & Dawn Krause, Austin & Logan Krause
2nd – Paul & Karen Hartrick, Pat Gorchals, Harley Bartel
December 23(Sunday School Christmas Service 9:00AM) &
December 24(Christmas Eve Worship 6:30PM)
Greeters – Mike & Patti Beilfuss
Ushers – Doug Ehrenberg, Roy Toepke, Kirk Delwiche, Bryce Akey
December 25 (9AM Christmas Day Service) &
December 30(9AM Service) &
December 31(4:30PM New Year's Eve Service)
Greeters – Marc & Theresa Gurgel
Ushers – Lee & Julie Hansen, Roger & Holly Schreiber
Acolytes
December 9 1st – Kahli Weisshahn 2nd- Landen Berrens
December 16 1st – Colton Connor 2nd- Reilly Claassen
December 23 9:00AM Service – Luke Ehrenberg
December 24 6:30PM Service – Connor Delwiche
December 25 9:00AM Service – Madison Hansen
December 30 9:00AM Service – Carson Arrowood
December 31 4:30PM Service – Grace Ebert
Catechism Parent Volunteers
December 19 – Justin Berrens
This Week at St. Paul's:
Tuesday – 5:30PM Board of Ed Meeting
– 6:30PM Elders Meeting
Wednesday – 10:30AM Bible Study
– 6:30PM St. Paul Preschool & Little Learners
Christmas Worship Service
Christmas Cookie Sale Today – After early service today, the St. Paul Youth Group is hosting a Christmas Cookie Sale. Proceeds from today's sale will benefit our Youth Group as it plans for future youth gatherings. Thanks to all who donated items for the cookie sale and purchased items today!
Baptism - Received into God's Kingdom through Holy Baptism today after the 10:30 service is Noah Elliot Broekman, son of Jeffrey & Jean Broekman. As God has granted Noah the gift of physical life, may Jesus our Shepherd nourish and strengthen the gift of faith that He gives Noah today so that he may be faithful to Him his whole life long.
Altar Flowers – Today's altar flowers are given to the glory of God in loving memory of George Yohr by Elsie Mae Yohr.
Upcoming Catechism Schedule - Parents are reminded that on Wednesday, December 12, 2018 there will not be Catechism Class. This is due to the St. Paul Preschool and Little Learners Advent/Christmas Service. Catechism will also take its Christmas Break on Wednesday, December 26th & January 2. Catechism Class resumes on January 9, 2019.
Christmas Brown Bag Collection – Donations are needed for our annual Christmas brown bags that we give to the children of our congregation after their Advent/Christmas services as well as on Christmas Eve. We generally make about 200 Christmas bags and fill them with candy, fruits and other treats of the season. If you would like to help with this collection, please designate your gift: "Christmas Bag Collection". Thanks for your gift!
St. Paul Choir News - During the month of December, the Choir will be rehearsing at 9:00AM on Sunday mornings to practice for the Christmas Eve Service. If you would like to join them please speak with Pastor or Bonnie Lewin.
Exercise Class at St. Paul - Due to work conflicts with our exercise leader, Theresa Gurgel; the Exercise Class that meets on Thursday at 4PM is cancelled during the month of December. Please watch the bulletin for further information. Theresa would like to resume the class at its usual time after the first of the year.
News From Altar Guild - Altar Guild members of St. Paul are asked to once again check your purse/or where you hang your house keys at home for the Altar Guild Church Key which members use to get into church to change paraments/set up for communion. If you have the key please put it in the drawer in the Bible Class room by the sink. Also Altar Guild is in need of two new people who would be willing to help the guild in the New Year due to retirements. Please speak with Julie Hansen at 920-858-2716 or call the church office at 446-3251. Thanks for your help!
Mission Work We Can All Do – "Love Packages" - Love Packages is a Christian ministry that is putting Christian literature and Bibles into the hands of people around the world. Love Packages based in Decatur, Alabama (affiliated with Billy Graham Ministries); is asking Christians across the United States to send Bibles, Sunday School materials, books, etc., that you have at home that you have read or would like to pass along. They are sent on to ministries in many poor countries to distribute freely to people hungry for the Word of God. These are materials that many Christians have which may be collecting dust on shelves. Now it can be repurposed again by being used to reach souls for Christ, encourage and build up the Church, and to cause the light of Christ in dark places. Mission: Love Packages exists to glorify God through the distribution of the Word of God to hungry hearts throughout the world. If you have gently used good Lutheran material at home please consider bringing it to church and place in the box labelled: Love Packages in the church fellowship area.